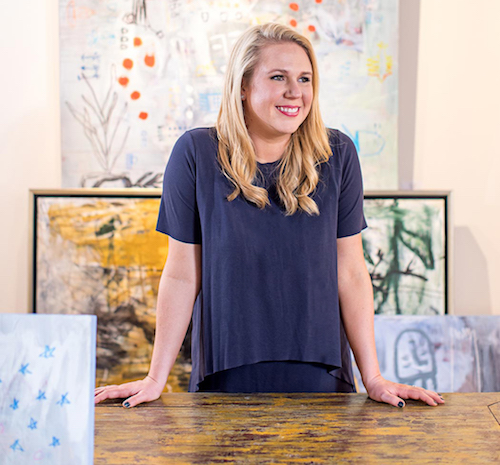 "Not afraid to feel, Macauley's painted drawings are emphatic in emotion and thought. Similar to paleolithic cave paintings, Blayne leaves you with the marks of her past and present experiances."
- Brian Coleman, American Painter


"Anne Irwin Fine Art is so fortunate to represent the work of Atlanta-based Blayne Macauley. Her work is incredibly unique and enigmatic in its narrative-based complexity; yet approachable and visually appealing at the same time. Still in her early career, we are enthusiastic about how her process will grow and develop as she matures in her craft."

- Emily West, Gallery Director
Anne Irwin Fine Art


"I love Blayne's work. We have a few pieces and they are extremely versatile. I like to move my art around the house depending on the time of year, and with Blayne's work that is really easy to do."
- Travis Reed, Art Collector


"Blayne's art makes a bold statement, through layering and juxtaposition of color. She paint from within the heart, and her art works well in traditional to contemporary interiors."
- Clary Bosbyshell, Interior Designer


"One of the key elements that makes Blayne's art so visually compelling is her understanding and use of layering. This component adds texture to her pieces and tells a beautiful color story that I think all her pieces have an amazing way of showcasing."
- William McLure, American Painter and Interior Designer


"Blayne Macaulay leads the viewer simultaneously through child's play, prehistoric wall drawings and contemporary street graffiti. Whimsical yet haunting elements float in a soft mystical space. Totally enchanting imagery!
- Billie Bourgeois, American Painter


"I am crazy about Blayne's work! It is layered with emotion and personal stories and at the same evokes whimsy and inspiration. Her pieces are an effortless fit in any design aesthetic."
- Shayelyn Woodberry, Interior Designer


Blayne Beacham Macauley is a painter in Atlanta, GA. She studied Plein Air oil painting in Venice Italy at the Scuola Internazionale di Grafica and Studio Art at Boston University. She uses symbols to create abstract paintings, which represent exact moments in her life. Her work has been featured in Atlanta Homes & Lifestyles, Southern Living and Southern Seasons Magazine.
Representation:
Anne Irwin Fine Art - Atlanta, GA
Bee Street Studio - Dallas, TX
Lucky Fish Gallery - Madison, NC
Quogue Gallery - Quogue, NY